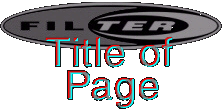 Click Here to see what is new with the site.

This site was made with the help and support of Hubka, the web master from Filter Online. Much of the information found here was taken from his site to preserve all the work that he and others did to make such a great page.

Everything found here is unofficial. If you want the Official Filter Information check The Official Filter page.

Weekly Chats are held on Tuesdays at 5 pm Pacific, 8 pm Eastern.

Take a Picture is the newest single. The video premiered on MTV's Total Request Live on Monday the 15th of November. To get it on TRL again click here.

The Filter DVD, TITLE OF DVD is in stores now.

The Family Value's album with live tracks from filter is in stores now.

The Crow 3 soundtrack with a track from Filter is due March 28.