Welcome to the Filter Archive of Information. Here you will find tons of articles/interviews and everything in between related to Filter. So polish those reading glasses and load up on your Filter knowledge by reading some of these files





Filter Online Exclusives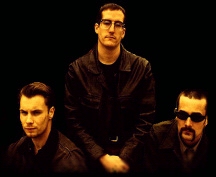 FILTER Special Guest Chat (March 3rd, 1999)

FILTER Special Guest Chat (December 18th, 1998)

FILTER Takes The Point (With Exclusive Photo)









Articles

THE HISTORY OF FILTER
(courtesy of our friends at FILTERED: The Unofficial Filter Page)



Huge new article from Addicted to Noise on Filter, 5 page interview with the guys, check it out!


Rock Sound.com's big feature on Filte


Allmusic.com's HUGE interview with Richard Patrick


An interview from The Music Base


Hey Man Nice Title; the full length article from Guitar 9/99


Hey Man Nice Tone; the skinny on the sound setup behind Filter from Guitar 9/99


An article from Sonicnet about Filter's new single and more


Filter interview regarding Family Values from 9/99 issue of AP


Richard Patrick NIN veteran article


AP's album review of TITLE OF RECORD from 9/99 issue of AP


The Rollingstone review of TITLE OF RECORD


An awesome package at Guitar.com with a text interview, behind the scenes video, the video for Welcome to the Fold and new pictures!


Another Family Values Tour article


Info on Filter joining the Family Values tour


A short interview with Richard Patrick from MTV


The Alternative Press Article on Filter from the May 99 issue


A little wrap up of the December chat with Richard Patrick by Sonicnet


An article about Filter from the AP 1/99 issue with the 25 most anticipated albums of the year


Some more info on Rich's first band The Akt (info taken from the Forum)


One of the first articles/interviews Filter ever did. This is from AP issue #86 before Short Bus was released


An older interview from 9/8/97 on Q101 with Geno Lenardo and Brian Leisegang by Brian Paruch. I added this because its in Real Audio not a script


No, Hey Man Nice Shot isn't about Kurt Cobain, read this explanation of that song


A brief explanation of the plot behind the video for "One"


An article about the new X-Files soundtrack and the Filter song/video for it


A short column from the March 98 Alternative Press


The Article from the Alternative Press about the new album


A new article with Richard Patrick from addicted to noise


Another article with Rich


An article with Rich about the brake up


An interview from MTV with Brian Liesegang regarding the brake up


The Transcript from an MTV Arena chat


An article about the new album


An article about the song for the Spawn soundtrack


An article about Filter's special guests in the studio


A short article from ATN from when Short Bus was released


An article about Rich and Brian right after they left NIN


An article with Brian Liesegang


An article about Richard Patrick and NIN


The story behind the song "Jurassitol"


A short summary of the "Tinseltown" single


The excerpt from the back of the video Phenomenology


An article about the live band


The story behind the name FILTER


An article about the "fued" between NIN and Filter from Addicted to Noise


An article about their drummer with Smashing Pumpkins from Addicted to Noise


An article with Brian Leisegang regarding the new filter movie soon to be released from Addicted to Noise


Filter Facts


An article with Brian Leisegang regarding the next filter album from Addicted to Noise


The story behind the "Hey Man Nice Shot" song


An article form huH magazine August 1995


An interview with Richard Patrick given to me from Alex


An interview from AOL


Article from Guitar World's Tune Ups section


Interview from Prodigys Sonicnet from February 28, 1996


Another interview with Filter from Sonicnet from August 1 1995


"The Dark Weird World of Filter" and article about the band